Italy facts and information

Looking for interesting Italy facts? More information about Italian people, culture, fashion, lifestyle, tourist attractions, food and wines? Planning your own trip or considering some organized tours?
Whatever the reason you're here, I would like to introduce you to more opportunities to appreciate and love this beautiful country through the eyes of a native Italian.
What is your favorite thing about Italy? There are much more facts than just capuccino, pizza, spaghetti, wine, lifestyle, fashion, art and history.
(Do I forgot mafia and corruption?)
Rome: the Colosseum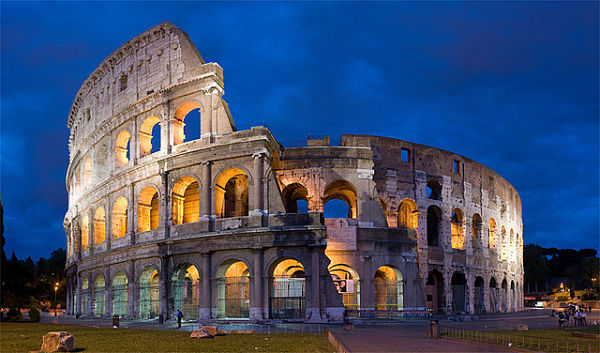 This is my country, I was born here and still live here. Italy is not only a tourist destination and on this website we'll cover more topics.
Please forgive me for any spelling mistakes: I encourage you to contact me and correct my English, thanking you in advance.
Italy is one of the most popular travel destinations in Europe and in the world, there are all sorts of attractions you can visit by yourself or through organized tours. It is quite difficult to choose what to see if you have a limited time available, there are so many sites with things to do and great food to taste.



This country offers its world-famous historical and cultural attractions, with ancient architectural monuments, wonderful cathedrals and churches with spectacular frescoes, sculptures and paintings.

Thousands of small little villages, medieval towns and beautiful luxury villas are also treasures to be discovered.

There are many places with huge warehouses full of sculptures and paintings out of sight, because they are too many and there is not enough space in museums to display them!
There are museums with works by Leonardo da Vinci, Michelangelo, Caravaggio, Botticelli, Tiziano (Titian), Raffaello, Tintoretto, Paolo Veronese, Tiepolo and many more; theaters for Italian opera lovers like "Teatro alla Scala" in Milan or ancient "Arena" in Verona.
Venice: Rialto Bridge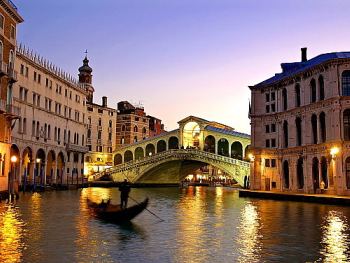 Towns like Rome, Venice, Florence, Naples, Verona, Milan, Turin, Bologna, Pisa, Siena are very interesting tourist attractions to taken into account while planning self catering tours.
Aside from historical and cultural attractions, there is a variety of Italian regions (20) from north to south, splendid panoramic sites with great scenery, starting from Alto Adige and Veneto with the Dolomites, Lombardy and the lakes area to Sicily, Sardinia and Eolie Islands, touching areas like Val d'Aosta, Liguria, Tuscany, Umbria etc.

The Italian seaside is popular with many coastal villages and towns, nice beaches and great entertainments: Riviera Romagnola, Capri, Cinque Terre, Costiera Amalfitana and Positano, Apulia, Calabria, Sardinia, Elba and Sicily are often included in group tours.
Italian Food & Wine take a big part in Italy facts, every region has its own cooking traditions and they differ from place to place.
The list of facts and reasons to come here goes on...

• National parks and reserves offer great hiking trails, horse riding and bicycle tours
• Theme itineraries: Italian gastronomy with culinary courses, religious, spiritual
• Spectacular mountains to enjoy the winter ski season and the summer vacation,
• Thermal towns with wellness centers with cozy hotels
• Venice and the Venetian villas, great samples of luxury villas

• Theme parks for fun and relaxation etc. etc. etc.
I want to give you an abundance of information about Italian lifestyle, Italian culture, Italian living and work, Italian food and wine, tours...
You are invited to visit our country, there is so much to see and do!


Benvenuti in Italia, welcome to Italy!
Italo (yes it's my name)
Table of Contents
The Italy Blog keeps you up-to-date with all additions and changes to the Italy-Facts.net website. Subscribe here.
This Italy Facts blog is aimed at those interested in the beauty of Italy.
Italy facts and italian lifestyle, Italy tourist attractions, travel information about Italy, news and more.
Fun facts about Italy: interesting facts and funny information about Italy.
The Detailed Map of Italy is the startpoint for discover this beautiful Country.
On this travel guide to Italy you will find information on how to reach and visit the Country.
A list of airports in Italy, where you can find the closest destination.
A list of places to visit in Italy, including towns and popular villages.
Wich Italy cities are the top 10 most visited towns? Discover them among the other italian cities, divided by regions.
You will find many tourist attractions in Italy, with great examples of italian Wonders.
List of famous Italian Operas where you can also find the music and the Booklet Authors.
On a series of Italy video you can have a taste of this wonderful Country.
Find all the hotels in Italy, compare hotel rates and make your reservation.
On this Italy small Hotels page, why to stay in family-run cozy places and accommodations.
There are many Florence Italy rental opportunities to live the charme of beautiful Firenze and Tuscany.
Map of Rome Italy with information about tourist attractions, pictures, transport, museums, hotels, things to do and more..
Map of Florence Italy with tourist information, attractions, pictures, transport, museums, hotels, things to do and more..
Find information about Naples Italy, tourist attractions, pictures, transport, museums, tours, hotels, things to do and more..
Tourist information about Verona Italy, with attractions, pictures, transport, museums, hotels, things to do and more..
Venice Italy map with information, description of the City, pictures and tips.
Cinque Terre Italy is a land full of charme and beautiful dramatic scenery.
Italian charme? Amalfi Italy is a small and fascinating town to visit full of charme.
Sorrento Italy is located on a terrace of tuff at the foot of the Lattari mountains.
The Italian cuisine is made of and full of Italian food culture.
Italian pasta salad recipe is a fresh dish, prepared with simple and light ingredients, such as tomatoes, basil, tuna
The Italian meatball recipe for spaghetti is a rich first course that can be considered a substantial full meal.
The typical Italian family use the Italian dressing recipe to season the salad.
The Italian bread recipe is one of the oldest and at the the same time one of the most traditional and used recipes in Italy.
The traditional Italian wedding soup recipe, a typical neapolitan dish.
Contact Me information for Italy-Facts.net
Would you like to share your knowledge about italy? Great, find out how you can submit your story or tip here.