Italy Regions
Map of the Country

Here the Italy Regions Map and description.

The italian regions are 20. Five of these are equipped with a special statute of autonomy (Aosta Valley, Trentino-Alto Adige, Friuli-Venezia Giulia, Sicily, Sardinia) and one of them (the Trentino-Alto Adige/Südtirol), consists of two autonomous provinces, that is, with legislative powers similar to those of the Regions (Trento and Bolzano/Bozen).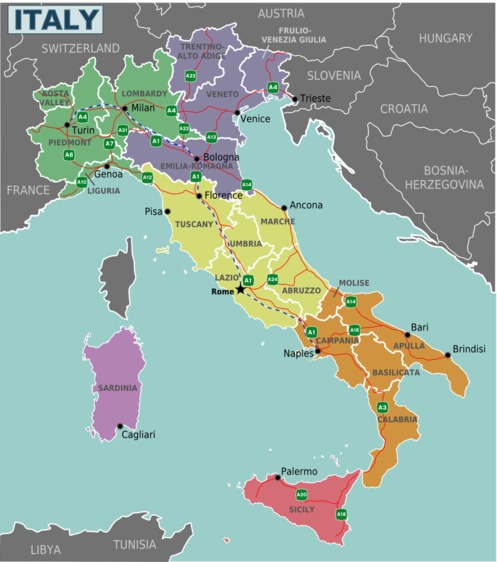 Map of italian regions numbered in alphabetical order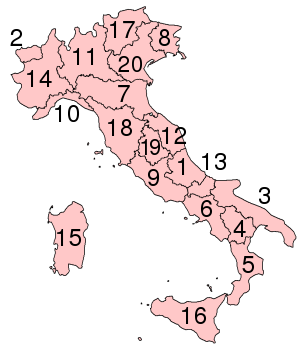 1• Abruzzo
2• Aosta Valley
3• Apulia
4• Basilicata
5• Calabria
6• Campania
7• Emilia Romagna
8• Friuli Venezia Giulia
9• Lazio
10•Liguria
11•Lombardy
12•Marche
13•Molise
14•Piedmont
15•Sardinia
16•Sicily
17•Trentino Alto Adige
18•Tuscany
19•Umbria
20•Veneto

Italian regions with their original names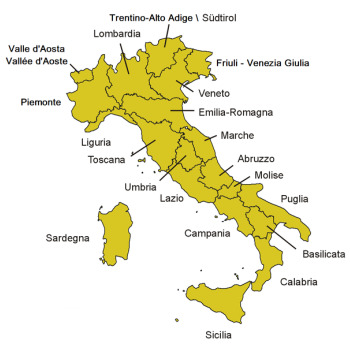 Valle d'Aosta (Aosta Valley) is the smallest Italian region and is located in the middle of the Alps, surrounded by four of the highest mountains of all Italy and Europe (Monte Bianco, Gran Paradiso, Monte Rosa and Cervino). Monte Bianco (French: Mont Blanc) reaches an altitude of 4810 meters, it is the highest peak in Europe and is situated on the border with France. Here the official languages are Italian and French. Read more...

Lombardia is the most populated region of Italy. By extension it is fourth after Sicily, Sardinia and Piedmont. It's capital is Milan. The name and the territory of Lombardy has ancient and tormented origins: made of invasions and devastation, division and battles but also of collaborations, co-habitation and development. Read more...

The Trentino-Alto Adige (Trentino-Südtirol in German) is a region in the north-east part of Italy, with capital Trento and consists of two joined regions: Alto Adige in the north, with the autonomous province of Bolzano and Trentino in the south, with the autonomous Province of Trento.
It borders Austria to the north, Veneto to the south-east, Lombardy to south and west and Switzerland to the west.
The official name of the region is Trentino-Alto Adige / Südtirol and the languages are: Italian, German, Ladin. Read more...


• Piemonte

• Veneto, Friuli Venezia Giulia, Liguria, Emilia Romagna,

• Toscana (Tuscany), Marche, Umbria, Lazio,

• Abruzzo, Molise, Campania, Puglia (Apulia),

• Basilicata, Calabria, Sicilia, Sardegna (Sardinia).
Italy is a Country that keep the regional traditions, especially in less famous towns and villages.

Countless are the places full of history, art, folkloristic and gastronomic traditions where a visit could reserve an occasion for reflection or just simply pleasure.

From Italy Regions Map
to Italy Facts Homepage